News




---
Coming 2018: CSC 3.4
We've been hard at work re-writing a big chunk of 'under the hood' code to bring you new and exciting features for v3.4, scheduled to be released later this year.
Highlights amongst the improved feature set include:
64 Audio Players across all versions | Up to 64 Audio Outputs (Pro Version) | Up to 192kHz Sample Rate support | Multi-Player Sync Seek | Timeline Fade-in/Fade Out Adjust | New OSC module and increased Telnet Count | New Narrow Mixer View | Improved Media Manager and File Management | Direct Playback of Multiple File Formats and much more...
Nemesis Control Solutions act as companion to CSC

In many set-ups, operating the show control system via keyboard and mouse is not a viable option. Prompt desks, mixing desks, darkness and other obstacles cannot guarantee the right buttons will be pressed.
All licensed versions of CSC support MIDI control of the cuelist and other events, as well as gameport control. With gameport adapters becoming harder to locate, many users are looking to MIDI as a control solution. The marketplace has various methods for achieving this, from programmable MIDI footswitches to home-brew products using Arduino and Raspberry Pi kits.
Nemesis Audio, also distributed by our current distributors, Orbital Sound, has created a range of show control and hardware solutions to solve many of these needs, from audio switchers to remote buttons, including the award winning UMT-2D, a perfect companion for any CSC installation. The USB driven UMT features 8 local GPI connections for "button boxes", long-drive XLR links designed to run down a multi-core to a band pit area, as well as MIDI I/O for connecting to external MIDI equipment. These units provide the perfect way to expand any CSC system to a professional level feature set.
Nemesis UMT-2D Product Page
March 2010: CSC Version 3 Available Shortly

With many long awaited features and a whole host of new tools to make designing quicker, simpler and easier, CSC3 looks set to yet again revolutionise the way designers are able to complete their task.
Major changes include a timeline based edit view to work alongside the existing WavPlayers, individual file editing for setting loops, starting and ending points, multiple output routing options and new routing mixer, as well as player grouping to simulate traditional VCA controls.
Beta Release Programme:
The beta programme is now closed, thank you to all users who took part and relayed feedback to us.
Current beta release: v3.0.1b
Public release versions of CSC3 will be available very shortly and features will be rolled out across these releases gradually.
Please note the software now requires a CSC3 license to save show files.
Users who purchased a CSC license after June 1 2009 are elligible for a free upgrade to CSC3. Users previous to this date will need to contact the current distributors, Orbital Sound, to arrange an upgrade. Contact details are on the CSC purchase page.
CSC Version 2.4 Released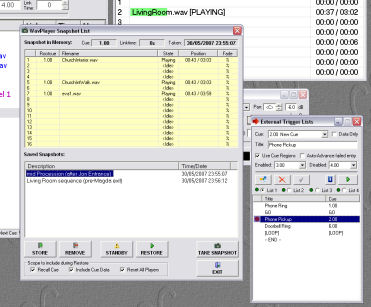 Version 2.4 boasts 2 exciting new features further demonstrating CSCs position as a class-leading theatre software control solution.
External Trigger Lists: To compliment the main cuelist, CSC can now support a further 4 lists designed to be fired by MIDI or through the computers own gameport connector. By firing cues in the main cuelist, these lists can automate the use of on-stage prop triggers, such as phones or doorbells, or maybe utilized to give an MD a button to fire his own set of click tracks. The unique feature of these lists is the ability to enable and disable triggers depending upon the position of the main cuelist, preventing accidental fire at the wrong point in the show, which has commonly been the problem when using live triggers on stage up until now. A must-have feature for getting that perfectly timed phone ringing effect or MD click track solution!
WavPlayer Snapshots: Large soundscapes tend to be built up over time with multiple fades and cues, and jumping to a point in the middle of these soundscapes is hard. So when the director says "Can we just go from that entrance again" in the middle of a rehearsal, the sound designers answer is usually "Ok, but we have to wait 3 mins for the sound to cue up correctly". Using CSCs unique snapshot memory, the current player states can be stored and jumped to at any time, so the director can ask for that rehearsal point as many times as required - its recalled or put into standby at the touch of a button. Cue position and link-timer positions are also recalled if needbe.
Coupled with the new ability to rewind/fast forward all players at once, with sync accuracy, the designer now has the tools to do the job even more efficently and quickly than before.
Other new features include: Auto Fade routines - Fade a single player, or all players out to silence with the new auto fade features, MIDI Thru for recording from keyboards, etc, Auto Bank Change for Program Numbers greater than 128 - Snapshot "140" , for example, can now be entered as PC 140, and CSC will send a CC for bank 1 and PC 12 - suitable for any system using scene memory's incremented via bank changes, 8 button remote control support - get even more control out of a single button box or external trigger switches simply using the PCs gameport, WavPlayer naming mapper - make better sense of "WAV1" etc in the cuelist and name them according to what they are dedicated to do.
CSC Wins "Sound Product of the Year 2006" at ABTT Awards
CSC won the ABTT (Association of British Theatre Technicians) "Sound Product of the Year 2006" Award after being nominated by Orbital Sound at this years 2-day trade show on 14-15 June in London.
Robin Townley, the ABTT's Honorary Secretary commented:
"The ABTT was very impressed by the development of a product specifically for theatrical show control at an accessible cost, which in its design has been so well informed by the genuine requirements of sound designers for the dramatic arts. The option of two levels of installation seemed appropriate for universal adoption of this undoubtedly useful tool from venues with the most modest budgets to those running the most sophisticated shows. The system's intuitive and familiar control interfaces will be recognisable to every user and allow them to find the facility they are seeking with ease and speed. The ABTT considered that CSC was a considerable advance in the provision of quality applications for the Theatre Technician working with sound."
The show generated considerable interest in the product whilst being demonstrated on Orbital Sound's stand, with many small venue representatives realising the possible capabilities for their work, both in sound playback and show control applications.